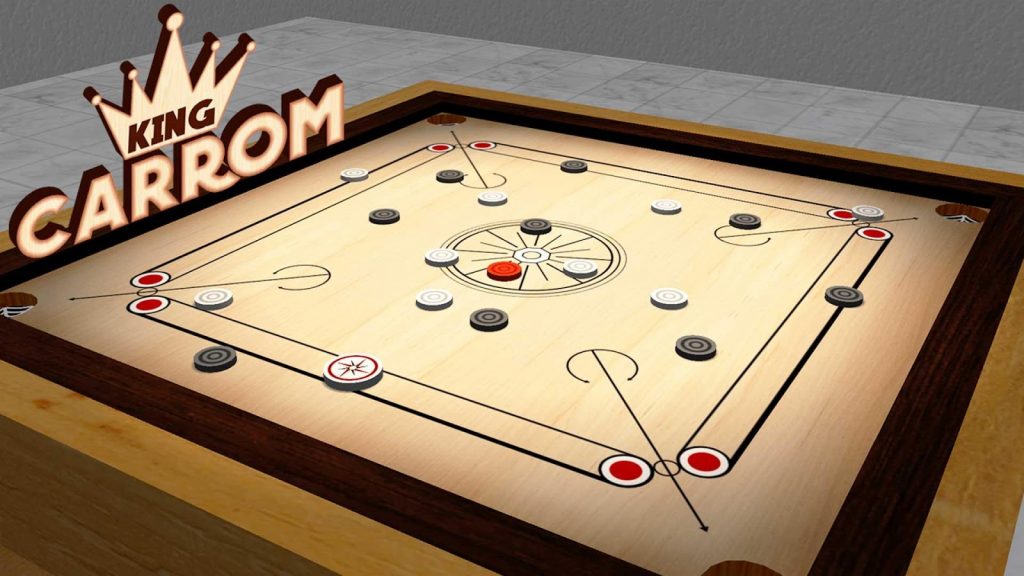 Every household is incomplete without Carrom since it is the most entertaining indoor sport and a great family fun time. Carrom has been enjoyed for centuries but technology has made it super amusing by adding more entertainment to the game in the digital versions!
Digital Carrom has replaced the classic Carrom board while ramping up its entertainment value unbelievably. Let's take a look at what makes digital Carrom captivate people's interest, taking them in the "Aahaa mood!"
1. A great fun time with your close ones
Carrom board entertainment often brings family together over exciting matches.
It is not only enjoyable to the players but also to the family members who surround the board as spectators and cheer the players while also poking fun at their game. Mobile Carrom is no different in the enjoyment that we are fond of on the physical Carrom board.
Strategy, careful striking attempts along with mischief, fun, and laughter together culminate into cheerful family moments that always make us want family Carrom time.
Mobile Carrom is equally entertaining as it gives the similar family fun time as does the carrom board game.
2. A one of its kind stress buster
The post modern time has turned life into a race.
The hustle bustle of daily life, constant rush, everyday struggles, managing responsibilities put us into unmanageable stress.
We need distraction and mind refreshing activities to cope with stress effectively and for many people mobile Carrom makes a great stress buster!
As mobile Carrom can be played online with friends or strangers, a 15-20 minute Carrom time relieves stress and calms our nerves to get ready for the next task.
People are seen playing mobile carrom game together in office breaks, or tea time. Many people also prefer playing online alone with their friends as a quick, relaxing activity.
Mobile Carrom is apparently a good stress buster.
3. An experience similar to real Carrom board
What flashes in our mind when we hear "Carrom?"
The yellowish-brown board, the smoothly sliding wooden coins, the sound of the strikes, and above all, the sound of pocketing the coins.
The sensory experience of flicking and pocketing coins is the main attraction of the game. Mobile Carrom has the similar audio-visual feel of the Carrom board game. It gives a real satisfying experience of flicking coins on the digital interface.
You don't have a Carrom board? Well, you don't need it.
Mobile Carrom has options like playing with people around you, playing online with friends or strangers, and playing with a computer bot.
It wouldn't be an exaggeration to say that mobile Carrom entertains you slightly more than the real Carrom board with the game options it has..
4. Carrom entertainment anywhere anytime!
Many times we go through lonely situations or inactive time periods.The option left to us is to just wait and let the boredom consume us.
But, you are a Carrom fan and it's not possible to carry a Carrom board everywhere with you to keep boredom at bay. Thankfully mobile Carrom comes to rescue!
Whether you are commuting to work, or alone, or on a long distance journey and have nothing at hand to engage your mind, mobile Carrom is something that is always with you in your pocket. It makes boring time, long waiting periods, tiresome journeys, or loneliness easy.
Being a mobile game it does not demand space. The carrom board is in your pocket. Wherever you are, just pull out your mobile phone, open the app, and the time is yours!
5. Connects people over an online pleasant experience!
Carrom is a game of connection and amicable bonds!
Carrom can turn strangers into friends and turn silence into blasts of fun.
Munna Bhai enjoying carrom with Rustom's papa while his fellow thugs' gang enjoy the game as spectators tells us that carrom is more of an emotion than simply a game. For a period even the goons become gentle and jovial enjoying the game.
You almost forget that Munna bhai is a hooligan and there is no need to emphasize that Munna bhai and his gang connect and bond with papa!
Digital Carrom is no different. The carrom excitement is the same!
Digital Carrom gives an online interactive experience even if the players are physically away from you. Once you share a great game with people, you often want to play with them again to share the fun again and again whenever you want.
Digital Carrom also lets you play with your facebook friends or play privately with your buddies by forming rooms. You can return and play anytime with your friends.
What makes digital carrom worth it?
The liberty to play Carrom whenever one wants and the additional features available only with digital carrom makes it worthy of time.
The variety of game modes, the audio-visual features, the opportunity to connect with players globally, ability to connect with Facebook friends, and chat options makes digital Carrom a great pastime as well as an indispensable entertainment.