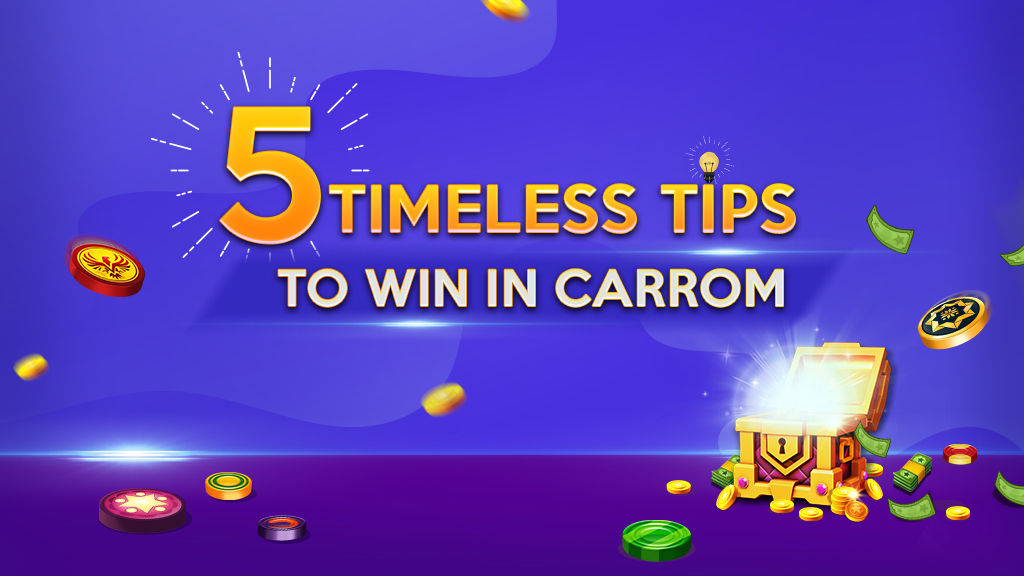 Carrom is a family respite that undeniably takes you away from boredom or monotony. A sensually pleasing coin flicking game that also brings togetherness is a perfect pastime in families. No wonder it is seen in homes, offices, social places etc. since the fun, togetherness, and refreshment from Carrom is everyone's solace. 
While Carrom is for entertainment it is also an ardently followed indoor sport that requires certain skills to master. Here are a few tips that will help you develop skills to win in Carrom while also enjoying the game!
1. Focus is as important as chatter & fun!
Carrom is a fun game and the continuous moments of mischief, laughter, and chatter are super indulging! After some time someone starts a chat or starts poking fun at someone's game and you played a shot while laughing and WHAM!!! "Oh Noooo." You missed a pocket! Despite having great aiming and hitting skills, you lost the puck! While having all the distractions in group play, it is very important to maintain focus so that you don't miss the pocketing opportunities. Fun and chatter are an inseparable part of Carrom but,  bringing the focus back from time to time while playing helps you enjoy Carrom as well as win the game!
2. Learn to pocket at the break!
The one who does it best in the very first opportunity often makes it to success! Every turn in the Carrom game gives you one chance to pocket at a time. If you lose the chance, you get another chance only after your mischievous brother, sister, or friend misses a pocket. If they are a pro player, they are going to pocket most pucks before the striker reaches your hand. Why give them easy chances? Break to pocket and earn one or more coins in the first turn and get more turns to pocket the freshly spread pucks on the board. Thus you will definitely score high with this skill!
3. Improve the skill of flicking in the right direction and with appropriate speed
The greatest agony of a carrom player is missing pockets because of inaccurate flicking direction and inappropriate striking speed. Do you remember the distressing "oh nooo" moment when you lost a match because of a wrong flicking direction or low or very high striking speed? You often need to play difficult shots towards the end of the match. Improving your judgment of direction and strike speed will help you pocket pucks at tricky positions. All you need is diligent practice to perfect striking with the right force and direction so that you don't miss pockets at the critical moments of winning the game.
4. Don't rush for the Queen. Conquer it at the right time
The one who has the Queen is a King! The queen is critical to winning in Carrom. Even if it is covered by an inexperienced player, it drastically increases their chances of winning. Therefore, you should definitely acquire the queen but at the right time without rushing. You shouldn't chase the queen while your revengeful friend or sibling pockets most pucks to build their score. Later, you will be left with more pucks to pocket while others have already pocketed most of their pucks. That's why it's necessary to focus on pocketing the pucks first and add up numbers. That way covering the queen at the right time can make you a winner!
5. Pocket the easy pucks before your mischievous friend does!
One should pocket the easy pucks before all try them. Time is critical and you only have a few chances to grab the easy. You cannot afford to lose turns by trying the difficult-to-pocket pucks first. Therefore, pocketing easy pucks as soon as possible will take you close to winning. In fact, it is the best way to tease your siblings, or friends while playing Carrom. You can try complex shots to pocket the difficult pucks later when you are sure about your winning.
Finally, Carrom is for entertainment, but it shouldn't be a mere pastime if you want to become a pro player. It has to be a passion that you follow enthusiastically to shine as an unbeatable Carrom player. These tips will surely help you enjoy Carrom more and make you the player of your dreams if you take the word.