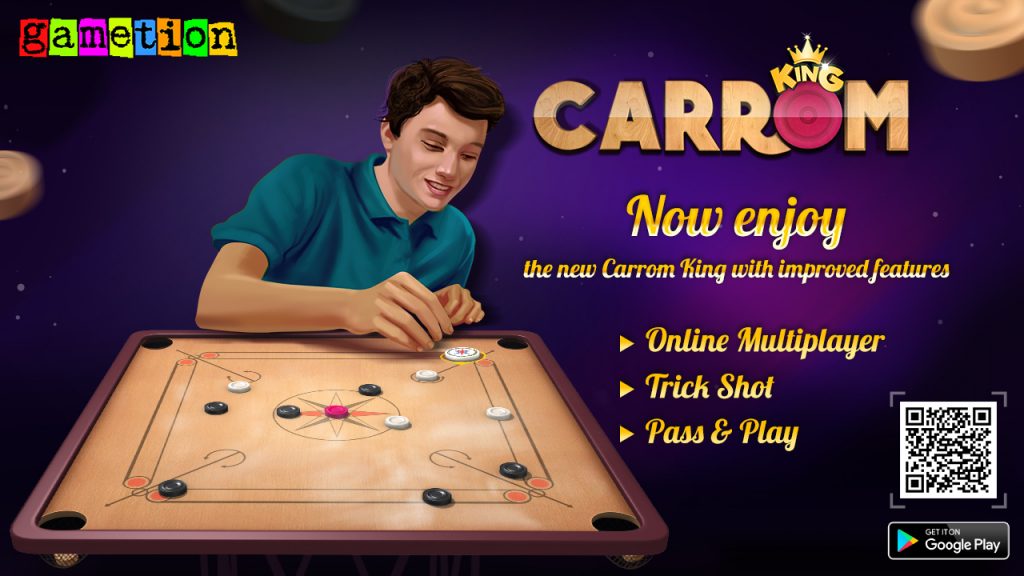 Carrom board being the most played indoor board game in the world is witnessing a great time in the mobile gaming world. Gametion Technologies Pvt. Ltd. has brought an updated digital Carrom game – Carrom King that has heightened the excitement of Carrom since now it can be played in an online multiplayer mode meaning you can play it with real player online present globally. The game has been made more interesting in terms of the aesthetic experience and the flicking mechanism of the game.
Carrom had always been a craze and is the favorite past time in the household but Carrom king has made it possible for Carrom lovers to play with anyone anywhere. It is like a big Carrom board in your pocket. People can now play Carrom while traveling, waiting in queues, being with friends and peers, in work breaks and the most important of all, in the absence of the physical Carrom board. It not only amuses game lovers but also connects people over a pleasing Carrom experience which is as real as the physical board game!
What's new in the updated Carrom King game?
Online Multiplayer mode: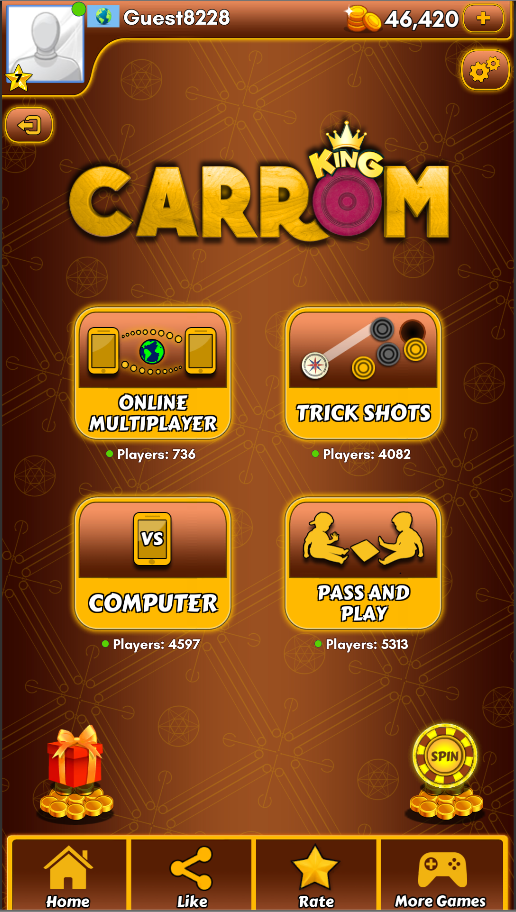 Now Carrom King can be played in Online Multiplayer mode that lets you play the game with real-time players present globally. Once you are online and you opt for this mode the app selects a random player from those present online and connects you to them over the game. There are options for Black or White and Freestyle in this mode. This mode requires a stable internet data connection to play.
The Online Multiplayer mode is played in different lobbies. Lobbies are the game compartments in which players can enter with different point amounts and earn the respective points by winning and completing the levels. For example, the first lobby starts with the requirement of 500 points and gives the winner 1000 points upon winning the game. The lobbies are opened successively by winning levels set in the game.
Along with this mode Vs. Computer, Trick shots, and Pass & Play are the already existing modes in Carrom King.
Improved Carrom board interface:
Carrom King interface has been improved aesthetically and the flicking mechanism has been changed for better control. The new flicking mechanism gives more efficiency in setting the direction of the striker and flicking the right coin. Now you get a striker position controller below the board to move the striker left-right on the flicking strip. You have to touch the striker and pull your finger back and release it to flick a coin. You can set the direction of the flick by rotating the finger around the striker to choose the position.
Multiplayer Game Modes
Compete with world players in online freestyle & black & white mode
Join millions of players worldwide
Interact with other players by sending emojis and messages
Progress through multiple lobbies all the way to the top
Watch your and opponent statistics
Single Player Offline Mode
Play Vs Computer and challenge the AI
Play Trick Shots a time-bound amazing mode with various levels to challenge your skills. The trick shots mode help you to perfect your carrom moves with some really tricky levels testing your skills and reflexes
Play with your family and friends in pass and play mode
Carrom King FAQs:
Download Carrom King &
Play with family and friends NOW!

Download Carrom King for iPhone